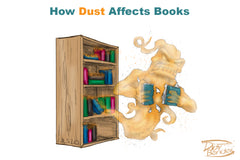 Seashells, action figures, Funko Pops, snow globes, stamps, vinyls, books, and more. Some of us have vast amounts of collectibles, while others may only have few. For those who collect religiously, you know how important it is to keep your collection clean, especially for items that don't come in a box and are made of organic materials! One of the great uses of the Dust Bender is cleaning and clearing away dust from collectibles! Today, we want to focus on book collections (as we are certain everyone reading this owns at least one book).
Taking Care of Books
Taking care of books is similar to taking care of any kind of collectible. Because books are made of organic materials, they can deteriorate and rot if they are not properly cared for. Books are typically made from papyrus, parchment, vellum, or paper, bound together with glue, and protected by a cover (usually made of the materials mentioned above or leather).
We searched the web to compile this list of the best tips for taking care of your books! One of the best things you can do to prevent book damage, which we talk about in more detail below, is making sure your books are protected from dust damage! Before we dive into dust, here are the top tips for caring for your book collection safely:
Store books in a cool, dry environment: Keep books away from moisture and water! Purchase a dehumidifier for your book room if you live somewhere humid.
Wash your hands before handling your books: Keep oils and dirt from permanently staining or deteriorating your books over time.
Only use safe materials for bookmarks, like paper bookmarks: Do not use paperclips, post-it notes, or rubber bands! Paperclips can rust, which can cause staining, and can tear pages. Post-it notes' glue can leave a residue behind that permanently seeps into and may stain paper.
Do not place pressure on your book's binding: Do not hold your place by placing book upside down, do not stack too much pressure on top of the book, do not bend book unnecessarily.
How Dust Damages Books
Dust alone can soil and damage your books, even if you follow all the other storage recommendations. That's why knowing how to care for your books can keep them looking new for a long time! Dust is acidic (having a pH below 7.0) while paper ranges on the pH scale drastically. Paper, over time, does become more acidic as it is exposed to light and air. However, there are different kinds of paper. Most books are made of acid-free paper, meaning its pH is 7.0 or higher (alkaline).
Books can be dusted weekly by being gently vacuumed (Dust Bender!) or with a soft paintbrush. Dust should be removed to prevent acidic damage from ravaging your book collection. While you dust your books, they should be inspected for any signs of damage. Look for damage from any of the issues presented here! The sooner you are able to care for your books, the better!
Additionally, a word of caution for those with serious dust mite allergies! The information below was taken directly from this source:
When you open a dusty book, an air current is created which pushes up the dust accumulated on and in the books directly to your nose. There are no other normal cases that you blow dust in your nose by yourself.
For those who suffer with dust mite allergies, this can pose a problem when dusting your book collections (especially if you have been neglecting them for a while!). To protect yourself, make sure you wear a mask and protective eye wear when opening your books to be dusted. It may not completely solve the problem, but it will give your eyes and nose a barrier between you and the dust, preventing more dust from entering your body.
Conclusion
You've already put a lot of time, energy, and money into your book collection. You spent time figuring out what books you like, looking them up online, and purchasing them, so why not spend a little time protecting your investment? Dust can destroy even the nicest of things (and not just books, by the way) so keeping your space free and clear of dust can prevent any issues in the future. Remember to purchase a Dust Bender on Amazon for easy dusting! The Dust Bender makes dusting fun and fast. Just hook it up to any standard vacuum cleaner that has a hose, and voila! You're ready to become a Dust Bender!